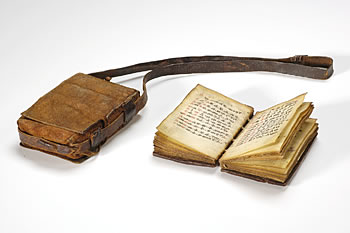 It's off to a good start. Chapter 1 done, about 2500 words. A complete outline of about 6500 words. I know where I'm going and how it's supposed to end. I feel so much better now! The middle is a little murky, but I believe it will work out when I get there as long as I have a good direction.
So my story this year is a fun little fan fiction where Tyrion gets a copy of 'Game of Thrones' and so kind of knows what the future holds (at least for the next year or so…) and may try to change some things, particularly things that look like they could get him killed.
I spent some non-writing time looking up how books were made before the printing press in order to try and figure out what Tyrion thinks when he sees a mass paperback edition for the first time. The image here is a book from the 1800s that was published in the old handwritten style. It's what I imagine most of the "new" books in Westeros probably look like.
I've been having trouble picking a title and my son (18) helped me pick one out tonight: The Eye of Fate. It's based on Greek mythology where the three 'fates' have only one eye to share between them. In the case of this story, there is only one copy of this potentially prophetic book.
Just a note. I don't have a full-time job this year. In fact, looking back, I don't think I've had a full-time job any year that I've "won" NaNo. Just saying… before anyone gets excited about comparing word counts. I think it's possible to get to 50k AND work a full-time job, as long as you stick with it and write every day. Making up words on the weekends is harder. What really throws me off-track though are all the bright and shiny distractions. There are more of them with a job.